Browsing all articles in News and Events
Comments Off

on Special Time Deposit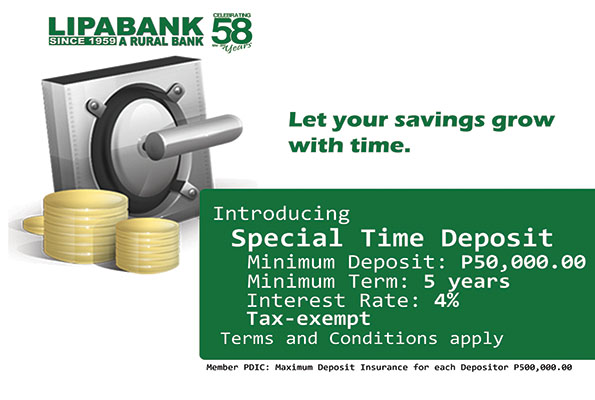 Lipa Bank, Inc. (A Rural Bank), in its effort to extend more financial assistance to its beneficiaries. Introducing the new savings product "Special Time Deposit". This product aims to help the depositor to save their money with the highest interest rate the bank can offer. With initial deposit of P50,000,
the depositor can get the 4% interest with tax-exempt for 5 years. What are you waiting for? Open your Special Time Deposit in Lipa Bank and let your savings grow with time
Comments Off

on Savings Deposit Promo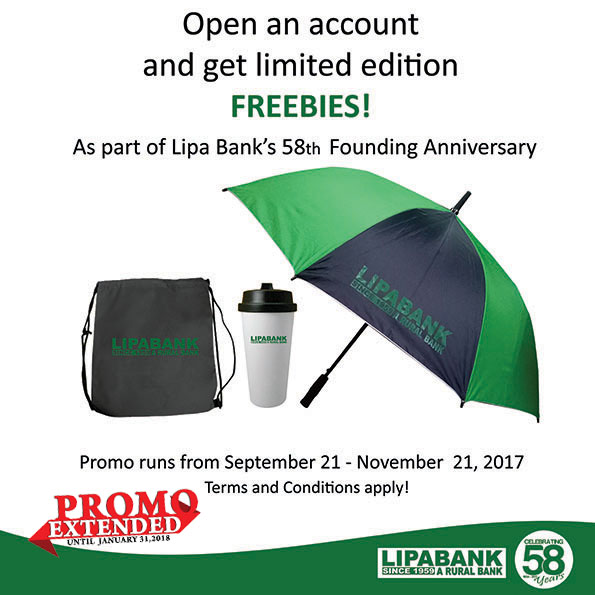 As part of our celebration for Lipa Bank's 58th Founding Anniversary we are giving promo for any new Savings Deposit Account within the period from September 21 – November 21, 2017. Promo is available at any branch of Lipa Bank and subject to the existing Terms and Conditions of the bank.
Comments Off

on Lipa Bank as ECPAy Biller!
Good news for our Loan clients. In partnership with ECPay, the leading electronic payment system provider in the country. You can now pay your Loan obligation in any ECPay merchants nationwide including all 7-Eleven outlets. You just need your "Loan Number" and go to the nearest ECPay merchants to update your loan.
Other Information:
ECPay merchants are accepting past due payments.
Cut off time is 7:00 pm. Transactions onward will be posted the next day .
Loan number can be seen on clients amortization schedule.
Comments Off

on Bills Payment
Lipa Bank is now accepting bills payment for Airline, Cable TV, Cellular Phone, Internet, Landline, Loan Collection, Power Utility, Water Utility etc. Partnering with
ecPay
which is the leading electronic payment system provider in the country. You can now pay your bills in our branches in Batangas and Laguna. Part of our tradition in community service, we're helping the people to easily access this kind of service.
Comments Off

on BankNote Demonetization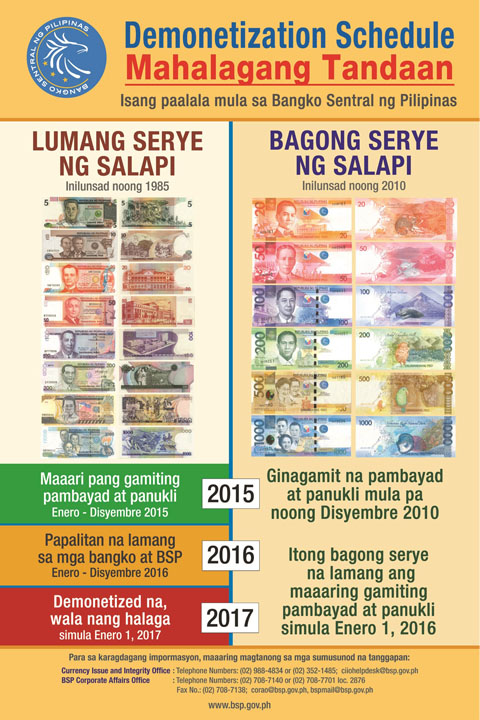 The Bangko Sentral ng Pilipinas started the demonetization process of the old banknote series on 01 January 2015, under Monetary Board Resolution No. 1939. Under the program, the BSP will gradually cease circulating the old series of banknotes, which has been around since 1985. Replacing it will be the new banknote series, launched in 2010, which has been circulating alongside it.
Comments Off

on Teacher's Loan
Lipa Bank, Inc. launched a loan facility to qualify teachers who may borrow at the maximum amount of P100,000. Interest rate and terms offered are highly competitive than that offerred by most private lenders.
In view of this, we can help them provide for loan with a vision to help. Through assessment we hope to give you the right choice of decision.
Comments Off

on Tricycle Loan
Lipa Bank, Inc. introduces a tricycle loan in aid of helping tricycle owners get a collateral loan at lowest interest rate. This offer is good for fully owned units of motorcycle with side car and motorized tricycle operator's franchise.
Comments Off

on Signing Agreement with HGC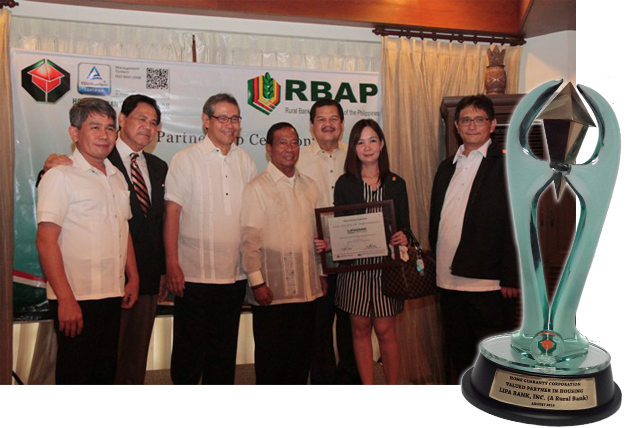 From L-R: Mr. Johnson M. Melo, Atty.Manuel R. Sanchez, Mr. Virgilio M. Morada, Hon. Jejomar C. Binay, Mr. Nestor A. Espenilla Jr., Ms. Nerissa O. Avestruz, & Mr. Gerardo Vicente M. Morada
HGC upholds its commitment to support rural banks housing programs and initiatives for the countryside.
By building stronger partnerships with rural banks, they hope to improve opportunities of poor families in the rural areas to access housing credit. HGC noble mission of housing the nation can only be achieved through meaningful partnerships with the private financing sector.
Through our partnership with HGC, Filipino families will realize their dream of acquiring their own homes. HGC programs not only mutually beneficial to our companies but also to our borrowers .
Comments Off

on Batelec II Payments
As part of our tradition in community service, last April 1, 2014 we started to accept Batelec II payments. We are now catering this service from 9:00 am – 2:00 pm. Below are the branches where you can pay your Batelec bills including the head office.
Head Office
Mataas na Kahoy
Rosario
San Jose
San Juan
Comments Off

on LBI Campus Saver's Club
Lipa Bank Inc.(LBI) launched another new savings product, the LBI Campus Saver's Club last October 1, 2013. Primarily, the said launched was introduced to St. Joseph School students.
Prior to launching there was a short talk to grade 4 to 6 students about the "Importance and Values of Savings at an Early Age" by Ms. Odeth Cueto, Marketing Head of the bank.
The program was opened to 7 to 12 years old with an initial deposit of P100.00. LBI Savers Club is a savings product which aims the kids to develop the value of savings for the future.
Announcement
Deposit Products
Loan Products
Other Services
Random Testimonial
~ Lucena Navarro

"

Thanks God my loan was approved! I added that to my capital. From that, business grew and my family is now helping me run it."